YOU'VE FORGOTTEN YOUR PURPOSE!

This article is a stub. You can help Samurai Jack Wiki by expanding it.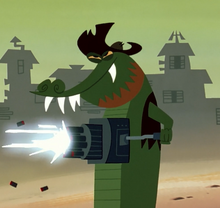 The alligator robots were a group of bounty hunters featured in "Jack and the Scotsman, Part 1." They were easily defeated by Jack's swordsmanship and the Scottsman's brute strength and machine gun leg.
It is unknown how the past Aku's destruction affected their existence.