YOU FORGOTTEN YOUR PURPOSE!.

This article is a stub. You can help Samurai Jack Wiki by expanding it.



Beetle Bot is the 1st opponent that chicken Jack faces in the Creature Combat Club. It is robot similar to Aku's Beetle Drones only in miniature size. Beetle Bot was delivered in a steel cage.
Known Moves
Bite: Beetle Bot uses his metal pincers to bite the opponent.
Fly: Beetle Bot's back opens up reavealing wings it then begins to fly.
Lazer Eyes
: Beetle Bot fires a green lazer from its eyes.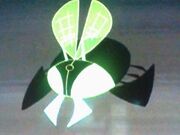 Ad blocker interference detected!
Wikia is a free-to-use site that makes money from advertising. We have a modified experience for viewers using ad blockers

Wikia is not accessible if you've made further modifications. Remove the custom ad blocker rule(s) and the page will load as expected.