YOU'VE FORGOTTEN YOUR PURPOSE!

This article is a stub. You can help Samurai Jack Wiki by expanding it.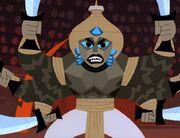 Ganeesh is one of the Dome of Doom Champions. He is a multi-armed, stone-bodied, Hindu deity-like creature with traditional Arabian clothing and swords.
During the fight with Jack, he shares his "wisdom", to which Jack is unimpressed.
Quotes
Wise man knows everything, a shrewd one, everybody.
You can hide, but you cannot run.
A true coward runs not from his opponent but from himself.
Many receive advice. Only the wise profit by it.