Ad blocker interference detected!
Wikia is a free-to-use site that makes money from advertising. We have a modified experience for viewers using ad blockers

Wikia is not accessible if you've made further modifications. Remove the custom ad blocker rule(s) and the page will load as expected.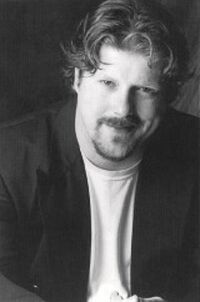 John William DiMaggio (born September 4, 1968) is a prolific American voice actor. A native of North Plainfield, New Jersey, he is best known for his voice roles of Bender in Futurama, Dr. Drakken and Motor Ed in Kim Possible, Marcus Fenix in Gears of War and Gears of War 2, Rico In the Penguins of Madagascar series, and Wakka as well as Kimahri Ronso in Final Fantasy X. John DiMaggio is a former stand-up comedian, appearing on stage as part of a comic duo named "Red Johnny and the Round Guy" and has several on-screen credits, such as Steve Ballmer in Pirates of Silicon Valley (the docudrama about the history of Apple Computer and Microsoft) and as the recurring character Dr. Sean Underhill on Chicago Hope. However, DiMaggio is predominantly a voice actor, having been credited for roles such as: Animated films and anime John DiMaggio at the 2007 Comic Con in San Diego, California.
Wonder Woman as Deimos Madagascar, The Madagascar Penguins in a Christmas Caper and Madagascar: Escape 2 Africa (Rico) Asterix and the Vikings (English dubbing: Timandahaf) Reign: The Conqueror as the English voice of King Philip Princess Mononoke (English dubbing: Gonza) Pom Poko (English dub: Ryuta)
Video games Afro Samurai (Brother 2) Call of Duty 4: Modern Warfare (marine raider voice). Crash: Mind over Mutant (Uka Uka) Crash Nitro Kart (Tiny Tiger) Crash of the Titans (Uka Uka) Final Fantasy X and Final Fantasy X-2 (Wakka of Besaid, Kimahri Ronso) Final Fantasy XII (Migelo, Gilgamesh) and much more.
John DiMaggio is a graduate of Rutgers University, as well as a member of Gamma Sigma (Rutgers).
He is also a highly skilled beat boxer, as can be heard in the Futurama episode "Luck of the Fryrish" as the character Noticeably F.A.T. and also in "Bender's Big Score", and recorded an a Capella version of the theme for two episodes with Billy West. He also beat boxed with Coolio, as Kwanzaa-bot, on Bender's Big Score.
See also
John DiMaggio at:
External links