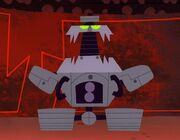 Mr. Roboto
is a minor antagonist appearing in 
Episode XVI: Jack and the Smackback
.
Description
Mr. Roboto is one of the Dome of Doom Champions. He is a killer robot who can shoot missiles and shuriken, similar to the Ultra-bots.
History
Episode XVI: Jack and the Smackback
Mr. Roboto is one of the last 6 Champions summoned by the Ringmaster after Jack has defeated the first 3 Champions. Mr. Roboto took action by launching his shurikens to Jack, only with him missing it. When Jack was cornered with Torto on his front, Mr. Roboto & Torto launched their respective projectiles, with only both of them destroyed each other after Jack evades their weapons.
It is unknown how the past Aku's destruction affected his existence.
Trivia
He is presumably named after the song of the same name by the rock band Styx.