YOU'VE FORGOTTEN YOUR PURPOSE!

This article is a stub. You can help Samurai Jack Wiki by expanding it.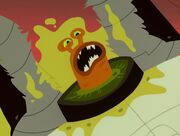 The Aqualizer
is one of the Dome of Doom Champions. He is an Aquatic cyborg with lethal weapons. Under his helmet, it is reveled he has a sea worm for a head. He is voiced by
Phil LaMarr
(while in his helmet) and
Jeff Bennett
(without helmet).
The Aqualizer was from the seventh ocean of Amalgamous, a hostile planet.
"Help me! HEEEEEELLLLLLP!"