YOU'VE FORGOTTEN YOUR PURPOSE!

This article is a stub. You can help Samurai Jack Wiki by expanding it.



Valhalla
is a place were honored warriors go like
Warrior
after they die its a realm wich is ruled by Norse Deities, the Warrior entered this afterlife realm after he was freed from his cures as a Lava Monster cast by Aku broken by
Samurai Jack
in
Episode X: Jack and the Lava Monster
. After wich
Valkyries
came down on there horses to take him to Valhala were he is seen with Thor, Odin and few other
Norse
Deities
. It's an afterlife place were souls of honored dead go after they die it is also the realm wich is ruled by
Odin
the All-Father, who along with his
Ra
and
Vishnu
fought againts
The
Black
Mass
entity from who came fort
Aku
.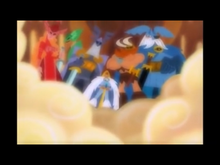 It is the same realm and home of the
Norse
Deities
as it is in
Norse
mythology from wich upon is based upon. But also Odin the All-Father in this ending scene has a Blue divine form very diffrent then his previous golden and white divine form in 2 Episode The Birth of Evil Part 1 and 2.